Art Nuvo is passionate about keeping your favourite treasures in tip top shape, whether you've been handed down a piece of family history which needs some TLC or your favourite piece of art has simply deteriorated over time.
If swift action is not taken when artworks are showing deterioration, they will continue to wear and devalue. We can repair oil and acrylic paintings on both canvas and board, including; tears, holes, cracking, flaking paint, varnish, transport damage, and also smoke, fire and water spoilage. We even help with cleaning dirt, mould and discolouration. Beautiful antique frames also benefit from Art Nuvo's restoration process, and look simply stunning when revived.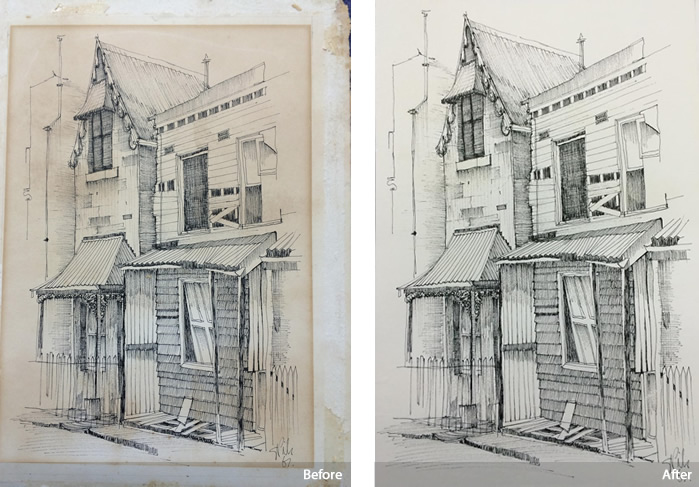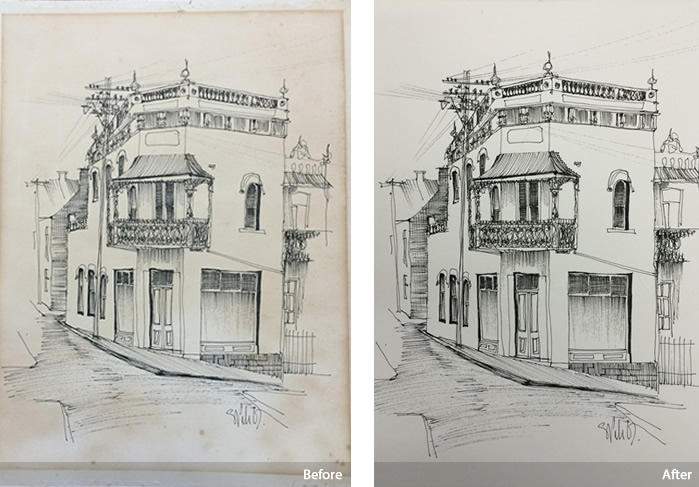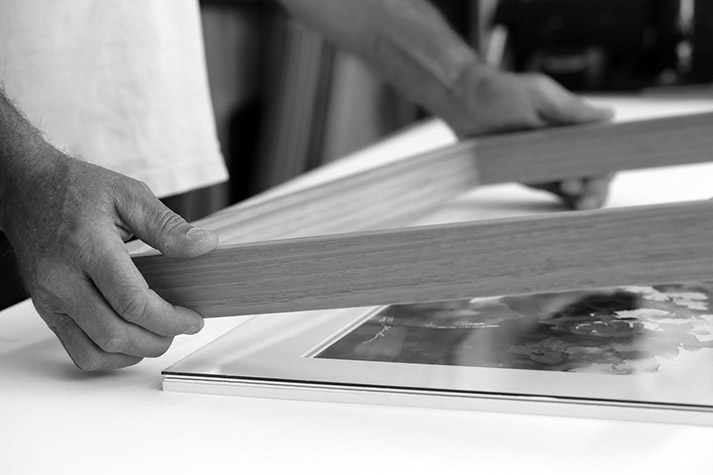 Our team of qualified, trade-certified and professional framers has an esteemed reputation for quality framing, ensuring each work is handled with utmost care. Andrew has been framing for over 30 years and is a consummate professional in consultation, working with clients every step of the way. Gerrard Walker and Cameron Banks complete the talented framing team, with Zackary Banks continuing on the family tradition currently undertaking his certificate III in Picture Framing.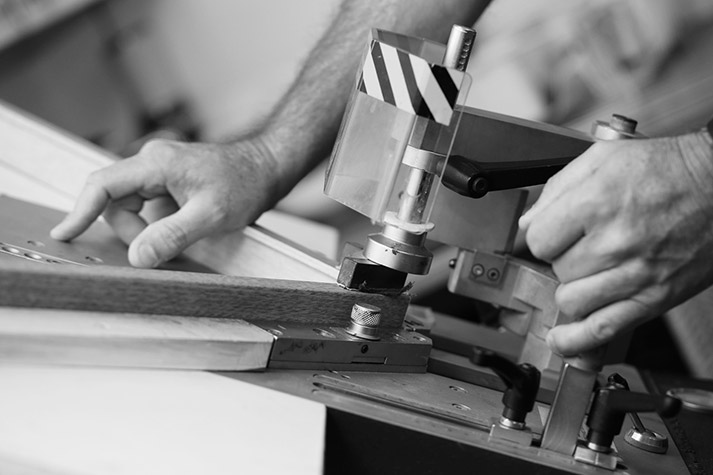 Picture framing is a highly-trained skill and Art Nuvo is renowned for handling priceless pieces of art, memorabilia and keepsakes. With their highly-skilled needleworkers, the gallery can be trusted with even the most precious pieces of work. All framers ensure a finished product that will stand the test of time, using all acid-free components and museum-grade mat boards.
Eco-friendly frames:
Art Nuvo is very proud to work with Antons Mouldings in supporting a new range of eco-friendly frames. The ECO CHOICE frames are made from timber which is harvested from managed plantations, and its colours are water-based with solvent-free finishes. Antons also donates a proportion of sales to Australian conservation initiatives, which the team is extremely proud to support.
Glazing Options:
Once artwork is damaged by light its irrevisible. UV light can be artwork's worst enemy. It's energy is absorbed by paint, ink, canvas and paper - causing photochemical reactions and molecular damage that result in yellowing, discolouration and fading. However, it's not just sunlight that produces harmful UV rays - all light sources do. Metal halide and fluroescent lighting, however, produce more UV rays than other forms of interior lighting such as incandescent and LED bulbs.
While any glass will provide some degree of UV protection, don't let that lull you into a false sence of security. The difference in just a few percentage points of UV protection is magnified over time, creating a marked contrast in the vibrancy of the colour and overall condition of the piece. To preserve your artwork go with the highest level of protection available whilst enjoying the crystal clarity that comes from the Tru Vue Glass. Available in 70% upto 99% UV control. This is the new way forward combining conservation with clarity control (no more fuzzy non reflective glass).
Mirrors:
We can also custom make mirrors with a wide range of picture frames in a size that suits you. A picture hanging service is also available to Buderim locals.
Mould:
If you are battling mould on a piece of art, we strongly recommend against cleaning it yourself. Our team can assist in the careful removal and restoration of all mediums of artwork and frames. Insurance quotes are available upon request, and insurance quotations are available for works damaged in transit or from accidental breakage.
Many times beautiful artworks come into the gallery that have been damaged from falling from inadequate hangers. Art Nuvo offers an in-home picture hanging service, where nothing is too difficult to handle, with the team able to tackle many difficult positions.. Our team also works seamlessly with over-sized pieces, corporate installations, mirrors, and gallery track systems to enable the ease of picture hanging without ruining your walls in the process.
Fully insured local and interstate transport for oversized works is also available.
Call Us:
+61 7 5456 2445
Email Us:
gallery@artnuvobuderim.com.au
Open:
Sunday and Monday Closed
Tuesday - Friday 10am - 5pm (gallery viewing and framing consultations)
For restoration consultation please arrange time to ensure Andrew is available to see you.

Saturday 12noon to 3pm (gallery viewing and framing pickup, no framing constulations on Saturdays)
Email:
gallery@artnuvobuderim.com.au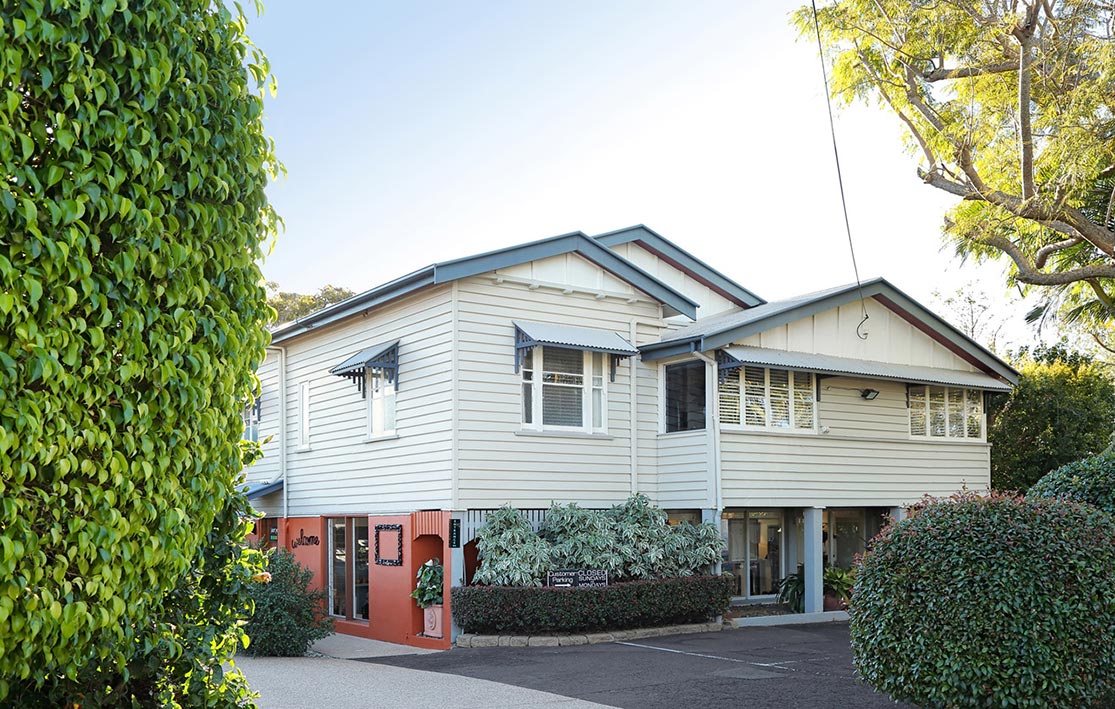 Thank you for contacting Art Nuvo we look forward to being able to assist you.